[Solved]

Final #12 Round (14 October, 2020) - Barcelona
Barcelona
Round #12
Next and very last race of Mythiq.net Endurance GT Series Championship of 2020 season will take place at 14 October, 2020 at Barcelona. This event will be available for public. After this event, the champion of MEGTS 2020 season will be crowned.
Event Details

Date: 14 October, 2020 (Wednesday)
Time: 18:00 (CET)
Server name: Mythiq.net Endurance GT Series | PUBLIC RACE |
Password: racegt
(If you can't find server, please try to search just for "myth")
(Time window for joining to server is from 17:30 (CET) to 18:20 (CET).
All drivers should get  password for joining to server into their initial registration email and also will be sended again 1 day before race in reminder email - please check your spam folder)
Discord: https://discord.gg/9S3EsG4
Event Structure

Practice: 20 minutes (18:00 - 18:20 CET)
Qualification: 30 minutes (18:25 - 18:55 CET)
Race: 60 minutes (19:00 - 20:00 CET)
In case of any changes, all changes will be written here as new post and also this first post will be edited according to changes.
Please check this post regularly!
Server is now online and available for joining. The public race is public, so no password is required,
Posted : 14.10.2020 17:33
Thanks to everyone for attending to todays race at Barcelona, which was also last race of this season of Mythiq.net Endurance GT Series. Big congratulations to R. Cruz with his Lexus, he won the overall championship and champion title of MEGTS 2020! Tomorrow will be available overall championship results.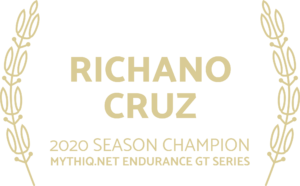 Posted : 14.10.2020 20:07
Official results of final 2020 season - #12 Round at Barcelona:
1. Cruz (Mythiq.net Endurance GT Series 2020 champion)
2. Woodbird
3. Zavoral
4. Diaz
5. Larisegger
6. Fuerstner
7. Zycloon
8. Biggs
9. D'Aniello
Season 2020 final overall driver standings:
1. R. Cruz | 232 PTS | 9 Podiums
2. F. Zavoral | 148 PTS |5 Podiums
3. M. Garcia | 59 PTS | 1 Podiums
4. S. Woodbird | 43 PTS | 2 Podiums
5. R. van der Land | 28 PTS | 0 Podiums
6. S. Sicolo | 28 PTS | 0 Podiums
7. J. Piper | 24 PTS | 0 Podiums
8. E. Rubiales | 24 PTS | 1 Podiums
9. S. Raineri | 16 PTS | 1 Podiums
10. M. Curran | 15 PTS | 1 Podiums
11. M. Manera | 15 PTS | 1 Podiums
12. M. Amato | 12 PTS | 0 Podiums
13. M. Riesner | 12 PTS | 0 Podiums
14. F. Keesen | 6 PTS | 0 Podiums
15. A. Shumarin | 6 PTS | 0 Podiums
16. M. Luque | 2 PTS | 0 Podiums
17. D. Kuhn | 0 PTS | 0 Podiums
18. R. Mascarenhas | 0 PTS | 0 Podiums
19. P. During | 0 PTS | 0 Podiums
20. S. Monz | 0 PTS | 0 Podiums
Posted : 15.10.2020 14:49