We are very proud and it is our pleasure that we can present to you a new website and branding of Mythiq.net which helps enhance even more your experience from our projects, mods, tools, and servers for a long time to come and become light at all your epic journeys!
Since 2017, when Mythiq.net was founded, we developed into something much bigger than what we back in 2017 initially can only barely dream of. From just mod developers we become a regular video gaming network that unites tenths of thousands of players all around the globe, develop not only award-winning mods but also games, tools, services, and other projects which helps to enhance the gaming experience of you, players, organize prestige esports events and also provide servers and realms on which all of you can become heroes, make new friendships and together set off to epic journeys.
All of this is possible only thanks to you, players, users and members of our growing community. Without your breathtaking support, it would not be possible for us to be as passionate about everything as we are. And because our core values are the commitment to doing it well, no matter what it is, and keep enhancing experiences, we feel like this is the right way to go and how to say thank you to all of you!
Last almost 12 months was really busy and demanding for us at Mythiq.net, but we believe that works what we started on this new website and branding in February 2020 together with Zavoral Design now helps you to enhance your browsing experience and experience from all our projects, mods, tools, services and servers.
New Mythiq.net website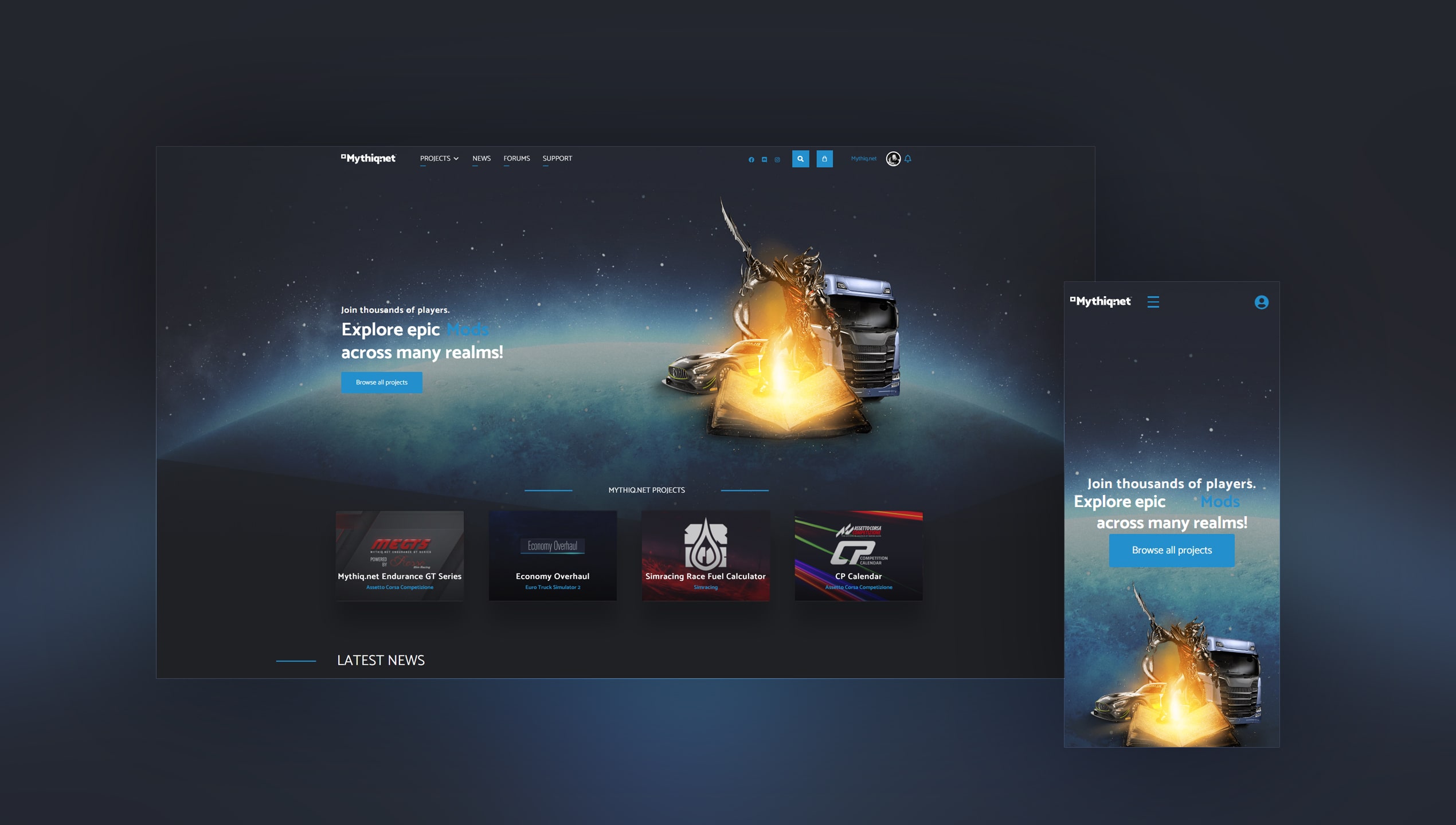 As you probably noticed, Mythiq.net has since today new website which is not only visually improved, but completely rebuilt from the ground up to bring you better functionality, new features, rapidly increase speed, full support for mobile devices and overall improve your user experience while using it and our online projects and services.
New and improved features
One of the biggest changes undergone new Mythiq.net Accounts. Your account is now working as a centralized point for entering into various Mythiq.net events and groups, such as in-game events, joining our MEGTS esports championship or allow you to become an internal beta tester of our new projects and updates. The main benefit is that if you for some reason can not participate in an event, or can't race in our MEGTS esports championship anymore, you can simply leave from these events yourself through Events & Groups management inside your Mythiq.net Account.
Also with your new Mythiq.net Account you can submit a support ticket without the need for filling in your credentials such as email address or name, everything is prefilled for you based on your Mythiq.net Account information and you can just focus to submit your support ticket or question in the simplest and fastest way.
Last but not least we wanted to make the whole login (and also registering) process as user-friendly as it can be, so you can now login or register through platforms and social networks such as Google account, Facebook or Twitter. This should make your life easier if you don't want to keep in mind all the passwords and email addresses. By the way – you can easily connect your existing Mythiq.net Account to one of mentioned platforms simply by logging in through one of them, or just by email address and password as you've been used until now. It is up to your taste!
New logo & branding
Mythiq.net has in its history three logos, including our newest and current one, however, with all our previous logos we feel like they don't reflect what we stand for, what we doing and most importantly they also don't clearly identify Mythiq.net. So for us, it was a straightforward decision to team up with Zavoral Design and come up with a new brand identity for Mythiq.net.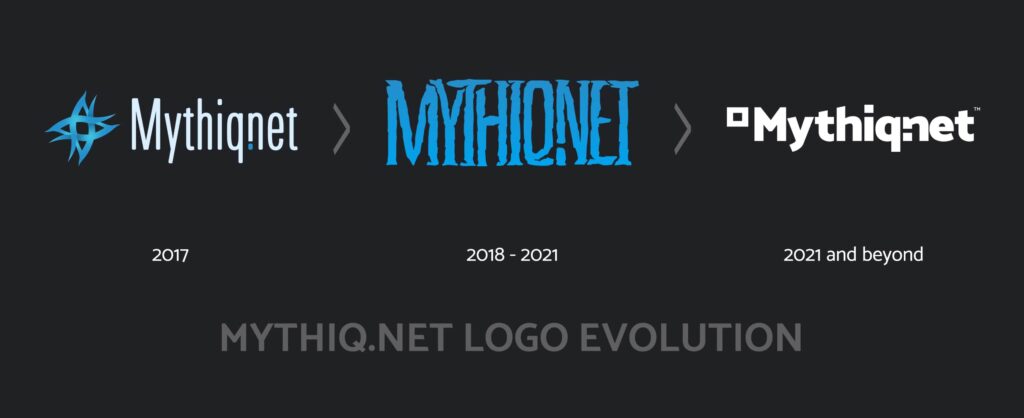 With the current new logo, we wanted to honor our roots, core values and still be distinguishable and easy to identify. As you can see below, after dozens of other explorations and concepts we come up with our new logo, simply said, by cutting down to its core our original icon from 2017 and making our own font to it, putting it together and the magic was done
Final thoughts
We truly believe that you will appreciate all the changes and new features we made and that they help you on all epic journeys or help you to make new friends among members of our warm and welcoming Mythiq.net community.
And what's next? We will continue in improving our website, adding new features and also launching our own Mythiq.net online store, where you will be able to support us directly or buy very affordable game titles.
However and most importantly we work on new projects while one is a very exciting and useful online tool for an MMORPG game and the other, which you probably know about it, is our long-awaited Economy Overhaul version 1.10.0. And what about esports events? We just doing the finishing touches on this year's season of the MEGTS championship and you can expect a very interesting season with valuable prizes.
So thank you for being part of Mythiq.net, being part of our community, all the enthusiasm you've shown us over the years, for using our mods, tools, services and playing on our servers, for all your support and help. We are truly grateful for it and can't describe how much we appreciate every single one of you.
If you have any thoughts which you want to share with us, please do not hesitate and share them in the comments or with others at our Mythiq.net community forums or Discord. Also if you experience any issues or need help, you can visit our Mythiq.net Support page.
Dear players, users, members of the community, please welcome to the new era of Mythiq.net!