Economy Overhaul was here since year 2017 with growing popularity among players and whole Euro Truck Simulator 2 community. And now we are proud to announce, that our modification Economy Overhaul for Euro Truck Simulator 2 became Highest Rated Mod and also Most Popular Mod for Euro Truck Simulator 2 in real economy category at Steam Workshop.
Thanks to you, whole community, players, supporters and contributors we could developer Economy Overhaul into state where it is now – based on data from two real European truck companies, largest set of new world currencies, real police fines and ferry prices, weekly updated real gas prices and with support for all official DLC's and latest beta and stable versions of ETS2 (also with backward compatibility up to version ETS2 1.27). This is it, longest continuously supported and updated economy modiffication for Euro Truck Simulator 2 and Highest Rated and Most Popular Mod in real economy category for ETS2 at Steam Workshop in 2019.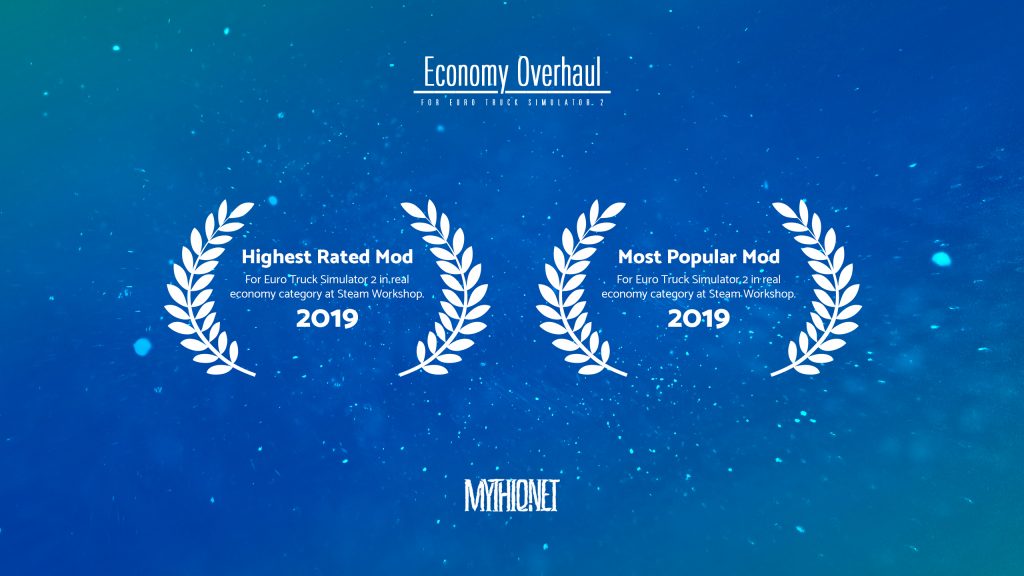 And what's next? We working hard on upcoming big update of Economy Overhaul and you can also expect some other big things next year regarding Economy Overhaul. All of you can also share your thoughts, ideas and suggestions what you would like to have, change or add into Economy Overhaul if you have the opportunity by posting into thread at Mythiq.net Forums. Every voice matters and your feedback or ideas will be extremely important for future updates of Economy Overhaul.
Thank you for your support. See you on the roads of ETS2!