We are happy to introduce to you the evolution of our original Race Fuel Calculator. It is a Simracing Race Fuel Calculator that supports and is made for all simracing games, including Assetto Corsa, Assetto Corsa Competizione, iRacing, Automobilista 1 & 2, Projects Cars and more!
Simracing Race Fuel Calculator, or shortly SRFC, is the evolution of our original Race Fuel Calculator which was made specifically only for Assetto Corsa Competizione and was limited only to track from ACC and GT3 class cars only. After a lot of requests and very good feedback from all of you, players and members of our community, we decided to make universal, definitive and especially very precise and accurate fuel calculator tool for simracers, which will not be limited only to one particular game, but you can use it for any racing game on the market. If you want iRacing Fuel Calculator, or need Fuel Calculator for any other favorite game, new SRFC is there for you!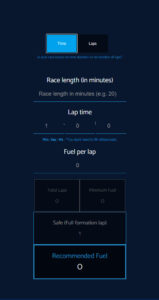 How does it work?
Everything you need is to select whether is your race counted in time or based on number of laps, then input race length in minutes or number of laps, your average lap time or lap time on which you want to aim in the race and then just your fuel consumption per lap.
Simracing Race Fuel Calculator calculate for you the following things:
– How many laps you probably do / length of race in minutes
– Minimum fuel load (for those who like challenges and don't want any spare fuel left in tank at the end of the race – however, keep in mind that your fuel consumption per lap may vary during the race!)
– Safe fuel load or fuel load for races with full formation lap.
– Recommended fuel load which is the best balance between all previously mentioned and it is always recommended – our algorithm not let you down in middle of last lap with empty fuel tank and at the same time you not finish with 20 litres of fuel remaining in tank.
[button title="View Race Fuel Calculator" link="/fuelcalc" target="_blank" align="" icon="" icon_position="" color="" font_color="" size="2″ full_width="" class="" download="" rel="" onclick=""]